RoboRescue Mission Competition Clinic
Duration:
Five-Day Week Workshop.
Track:
Competitive Robotics Workshop — Grade 7 TO 11
Description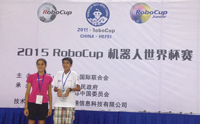 Join us to simulate rescue missions to save victims trapped in a disaster zone! Rescue personnel in place need robotic assistance in dangerous areas. RobocupJunior is the only A.I.- oriented robotics competition available in the country, and require vigorous programming with algorithms skills. Storming Robots students have been the top performers since 2009. Some also won World Title in several years.
Main S.T.E.M. especially Computer Science and Robotics specifics to this workshop:
Build and program your robot to autonomously carry out the rescue mission and negotiate its path through rough terrain, including hills, cracks, and debris. When the robot finally finds the victim, it must transport the person carefully to a safe area where humans can take over.
For Novice) Explore how algebra and geometry are used to solve a multitude of robotics problems and challenges in the field.
Learn how to implement algebraic and geometric applications into your programs to improve robot performance with higher math and programming skills.
(For Advanced) The workshop will introduce more sophisticated algorithms to resolve the challenges, such as motor feedback control, and more computational algorithms. In terms of math, you will learn to use more efficient ways to apply trigonometry to tackle challenges such as obstacle avoidance.
Explore Data collection for experimentation and accuracy.
Prerequisites:
High Proficiency in Algebra I.
Must enjoy challenging the mind and being creative.
Must enjoy Mathematics.
Appreciate analyzing intricate problems.
Learning Tools:
Hardware - LEGO® Mindstorms™
Software - RobotC©