Robotics with Arduino I
Duration:
This is a five full day workshop.
Track:
Physics and Electronic with Robotics — Grade 8-12
Description
This is hands-on workshop which teaches you basics in using an open-source platform to create your own electronic project as well robot. You will work with the award winning platform Arduino, which is widely used in college engineering school and many prototyping projects.
Each day of the workshop will fill with hands-on fun challenges from electronic and prototyping, and programming to automate an Arduino-based robot with various sensors-feedback to navigate around from simple to more complex path. The whole goal is to equip you with the fundamental design principles of modularity and abstraction in a variety of contexts from electrical engineering and computer science. This should enable students to pursue more challenging robotics projects or any electronic DIY projects at home; as well as gaining a head-start in college.
Anticipated Engineering Learning Outcome:
Set up hardware and software to prepare yourself for future practice at home.
Schematic sketching with computer tool.
Electronics engineering concepts such as Analog and digital input/output, voltage divider, pull-up vs pull-down resistor, etc.
Programming with Arduino-Sketch-C. Will also explore more robust development platform.
Basic electronics concepts presented in Advanced Placement Physics C.
Interfacing with various analog and digital sensors
Understanding H-Bridge
Motions with defined path to sensors-feedback navigation.
Debug hardware with logic analyzer (if time allows).
Prerequisites:
High proficiency in Algebra I.
Have programming background in C/C++, or other programming languages such as Python, or Java.  Please send us one of your most accomplished computer programs. Acceptance to this class will depend on the approval after this program is reviewed.
If you have taken "Programming with Algebra & Robotics" with a high performance, you are eligible for this class.
Learning Tools:
Software - Arduino C.
Hardware - Arduino Controller and other electronic devices.
Take Home Devices include: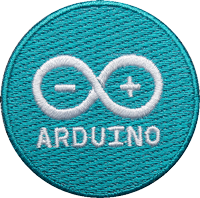 Microcontroller loaded with features richer than an Arduino UNO, robot chassis, QTR light array, and other electronic accessories - around $80 retail value.
Prize
In September, 3 students with the BEST Online Portfolios will be announced and receive a prize. Please
contact us
for more details.