OnLine Program - Frequently Asked Questions...
- Last update : Aug 30th, 2020.
---
Going Online. What does this mean to me?
Students will receive their Zoom Meeting ID and instructions in order to sign on for their registered classes.

To provide online instruction we will be using a video conferencing software called Zoom. This is currently being used by many schools and universities to move to an online format.

One of the most important reasons for using Zoom is the ability to share screens. This allows an instructor to show their screen to the classroom and allow the student to share their screen with the instructor when needing assistance.

Zoom works on many operating systems (Windows, Mac, Linux, Chromebook). However some software we use for programming, etc, is available for Windows only. There are exceptions. See the Q: "Which OS and Software will my child need? " below.
---
Which OS and Software will my child need?
Installation of Zoom
Installation is extremely user-friendly and intuitive.
Go to Zoom.
Create a login.
Install the software: Click on "Resources->Download Zoom Client"

Make sure your computer is equipped with a microphone and speaker. Here is a video link about "How to Set Up the Zoom App for Students and Parents".
Students
must
make sure they complete these steps
before
attending a meeting.
---
About particular Software necessary:
That depends on the course they are taking.
The following serves as a complete reference for all students including new ones. Most current students should have already had access to the tools necessary. However, for current "Robotics Projects" students (usually Gr.4-8), I want to draw your attention to the requirement below to ensure you will have them installed at home.
Group
Operating System
Software Requirements:
Others
Robotics Projects (Gr 4 to 8)
Windows
Robot Virtual World.
If you do not have a copy, you must read the Question "Need to get a license for Robot Virtual World. " below.
Access to the following:

Google a/c, such as gmail
lucidchart.com

Algorithms in C/C++ (Gr. 8+)
Windows, Mac, Linux
Any C/C++ compiler/IDE.

Ideally -: Visual Studio Community ; or OnlineGDB ;
Access to : Google a/c, such as gmail

Programming book – 2nd Ed.
Robotics w/ Electronics (Gr. 9+)
Windows, Mac, Linux
Arduino / IDE;
Access to : Google a/c, such as gmail

See link for materials.
---
What about the hands-on element?
Hands-on element is in two-folded aspect - mechanical and software. Unlike many other Robotics programs, SR heavily focuses on the engineering process and the software skills necessary for AI development in the future. Most others focus a lot more on just competitions alone and heavily on mechanical aspects.

Since the core of our program is to strengthen students' critical thinking and prepare them in AI era; the time working with the physical robot is only about 10% for a total term, especially for the younger groups. The far more important aspect is the engineering process, and robotics programming - the analytical process; which mainly are learned through "robotics programming".

Our virtual platform will continue our learning model. Students will still go through the same process and work as it would have been at the center. The only difference is that they won't physically build the robot, which equates to only a maximum of 10% of the work time at the center. We'll still go thru mechanical math work, which is one most important learning element in mechanical aspect for younger students.

The RVW did a wonderful job also to simulate environmental issues. That means the software did deliberately inject noises simulating physical environment. That's pretty impressive. Please see more detailed information in the "How can my child work on Robotics Projects online?" section below to know more about the learning tool.

---
How can my child work on Robotics Projects online?
We have been encouraging students to utilize Robot Virtual World for practice work at home since 2015.
Gr. 4- 8 Robotics Projects students will continue to use the same software tool, Graphical-RobotC or RobotC, that we use in class. The difference is they will not be programming a physical robot but a virtual one. Most students should be familiar with this.
Need to get a license for Robot Virtual World (RVW)
NOTE: This applies ONLY to Gr. 4 to 8 Robotics Projects Group only.
An 180-Days license will be provided to students at no cost. Students will be able to access the software and do practice at home.
If you still have yet installed the
RVW for LEGO
, please
email to office
ASAP to obtain a license and installation instructions.
---
Is online learning effective?
Yes.
Researches and studies have proven its effectiveness and high value of learning, such as
this one
, or
this one
, and more. It's curriculum is supported by U of Pittsburgh, and Carnegie Mellon's Robotics Academy. CMU Robotics Academy's
CS-STEM Network
utilizes the "Robot Virtual World" as major learning tool. It's goal aligns with SR's – to develop and strengthen students' requisite skills in the field of Computer Science and Robotics to compete in the AI world. Research, done by the Carnegie Mellon Robotics Academy and Learning Research Development Center at the U. of Pittsburgh, shows that learning to program in RVW is 33% more efficient than using physical robots. RVW allows them to program simulated VEX® and LEGO® robots in 3D environments using RobotC as the physical robots. It is mainly because of faster iterative cycle from the elimination of mechanical flaws. (Here is
the link
to the research document . )
A caption from CMU Robotics Academy online video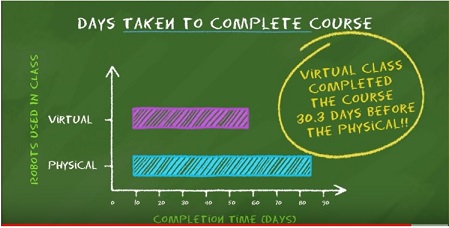 So, the natural question is that "why don't we just use RVW to begin with? RVW is an virtual environment, so it will not contain building concepts. However, the building portion is exactly the main reason which decreases the learning pace. Don't worry. The lesson plan will involve the mechanical math - the most important learning value in pre-college robotics. For those who own a physical robot, not a problem. Instructors will go through a few resources for building at home.
---
What about the Electronic (Arduino) classes?
A: Most of the students will have the parts at home so this should not be a problem. In addition we will be using an online simulator called Autodesk Circuits123d. This will allow the instructor to get across concepts in electronics and to simulate a project before physically wiring the project up.

---
What about the Algorithm classes?
A: As long as the student meets the requirement, there should be no problem teaching algorithm courses. We run over 10 Algorithm courses online during the week of March 13-15. It worked quite well, and also have received good feedback from students.

---
A: Good question… we have no definitive answer, and shall follow CDC guideline.

It is important for us to do our part to slow the spread of the Covid-19 virus by staying home; but also to maintain some level of normalcy for our children.

While we cannot give you a definitive answer as "when", what we can ensure you is that our program will continue to maximize students' learning. Storming Robots will do exactly that and turn this as an opportunity for our students to continue to excel in an alternative method with even higher potential in effectiveness.


---
What if it lasts for the whole Spring term?
A. This is usually a concern for the younger Robotics Projects Group.

We are going to add an exciting element to excite the students. They will look forward to an online competition for different levels and/or given online badges for recognition. This should be pretty exciting difference for all participants. One possibility is to disseminate the RobocupJunior Competition Challenges into smaller competitive components for the younger ones.

This should pull the students' spirit and motivation up to put in more effort to conduct an experiment at home.

---