MIT/NASA ZeroRobotics Space Programming Tournament
This is from the SPHERES-ZERO-Robotics program run by the Massachusetts Institute of Technology (MIT) and National Aeronautics and Space Administration (NASA). SPHERES stands for the Synchronized Position Hold, Engage, Reorient, Experimental Satellites. Students (Gr.9+) write algorithms for the SPHERES satellites to accomplish tasks relevant to future space missions.
The tournament begins with simulations in phases from 2D to 3D with gradually increasing difficulty. After two elimination rounds and days of execution with daily rank shown in online leaderboard, the advanced finalists will gain the opportunity to have their code run in the physical SPHERES satellites aboard the International Space Station. The event will be broadcasted live from space. The finals take place simultaneously at MIT, an ESA site in Europe, and at the University of Sydney in Australia.
Click here
to Learn more about the NASA SPHERE program.
2017
Advanced to ISS Semi-Final.

We have a small team this year,14 members, with most are rockies. The team won their way into the 2017 ISS Semi-Final. Team got an opportunity to explore Quaternions and spatial rotation.
2016
Won the 2nd Place at the ISS-Final
On January 27th, 2017, team Quark Charm won the 2nd Place at the ISS-Final. The 1st Place was won by an alliance team named "SpaceLinguine" formed by two Italy teams and one US-Arizona team. There were over 150 teams participating in the 2016 competition. It includes about 80s teams from United States, and about 70s teams from foreign countries, such as Russia, Australia, Japan, etc.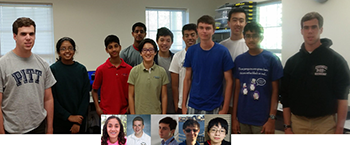 Full Team.
(from left to right, top to bottom)
Brian Winkelried-Gr.12, Mehal Kashyap-Gr.10, Prateek Humane (CoCap)-Gr.10, Karthik Murthy-Gr.11, Ashley Yang-Gr.12, Ethan Mak-Gr.10, Bhavik Shah-Gr.12, Daniel Kolano (CoCap)-Gr.12, William Cui-Gr.10, Neelay Trivedi (CoCap)-Gr.10, Jack Winkelried-Gr.12
(at the bottom of the pic)
Sonia Purohit-Gr.10, Sean Doran-Gr.11, Alexander Saff (CoCap)-Gr.12, Stephen Therianos-Gr.12, Sunny Cheng-Gr.10.
Click here to view
Press Release from MIT/ZeroRobotics.
Our Past Participation

2015
Advanced to ISS Semi-Final.

We have over-whelming number of participants this term - 22 members. Our new 22 members team won their way into the 2015 ISS Semi-Final. At our ISS-Final, we scored just one rank shy away advancing the ISS Final. Nevertheless, it is rewarding learning experience for everyone.
2014
Won the highest score at the ISS-Final Round Robin Simulation
Congratulations on our alliance team at the ZR ISS finals! Our alliance team's code achieved the highest score at Round Robin Simulation. As always, the most important aspect is serious learning and fun always going together. Awesome experience!
Team Members

Dhruv Patel(Gr. 11), Danny Kolano(Gr. 10), Pranav Darbha(gr.10), Sid Kurella(gr.11), Salil Pathare(gr.11), Brady Bean(gr.11), Sunny Agarawal(gr.12)(coLead), Prad-yumna Rao(gr.10), Vadym Glushkov(gr.11)(Lead), Sean Doran(gr.9)
2013
Advanced to ISS-Final
Storming Robots Roboclub high school students once again advanced into the ISS-Final of 2013 MIT/NASA ZERO Robotics Programming Challenge. These Finalists will have them software competing in a live championship aboard the ISS against other brilliant teams throughout United States. The Final submission date will be on December 15th.
Team Members

Vadym Glushkov (gr.10) (team captain), Sunny Agarawal(gr.11)(team captain), Brady Bean(gr.10), Pranav Darbha(gr.9), Abhishek Kalita(gr.10), Sid Kurella(gr.10), Prad-yumna Rao(gr.9), Uday Shankar(Gr.9), Shawn-Qilong(Gr.10), Michael Wu(gr.10)
2012
Advanced to ISS-Semi-Final
Team Members
Michael Xie (gr.9) (team captain), Andrew Amerman (gr.9) (team captain), Sid Kurella (gr.9), Sunny Agarawal (gr.9), Salil Pathare (gr.9), Andre Gou (gr.10), Ben Brown (gr.12)
All major developers are first time participant.
2011
Won 2011 ISS Final
Along with our allicance teams from the Riverhill High School, MD, and Rockledge High School, FL, Storming Robots' high school team won the SPHERES Challenge 2011 Championship on the International Space Station!
Read about
the NASA Press Release
Read about
the NJ.com Press Release.
Team Members

Avery K., Matthew G., Matthew S., Nikhil S., Ben B.
Team member Avery Katko was featured on the Rachel Maddow show on MSNBC.
2010
Our first time participating in the competition. After a rigorous selection process, Storming Robots students' proposal was accepted to be one of the best match teams for its competition, based on their past software development and robotics experience. We are the only team from NJ in 2010.
Team Members

Alex Frankchuk, Avery Katko, Catherine, Dai Matthew, Goldman Oliver Katz

Read about

Press Release on NJ.com.

[an error occurred while processing this directive]